Constitutional Amendment for Life
The Life Amendment extends the meaning of the word person, as used in the 5th & 14th Amendments, to include all living human beings. The Constitution of the United States of America is the primary legal document of the nation. As such, it sets forth all the functions of the American government. Also included are instructions for revising the Constitution by means of amendments.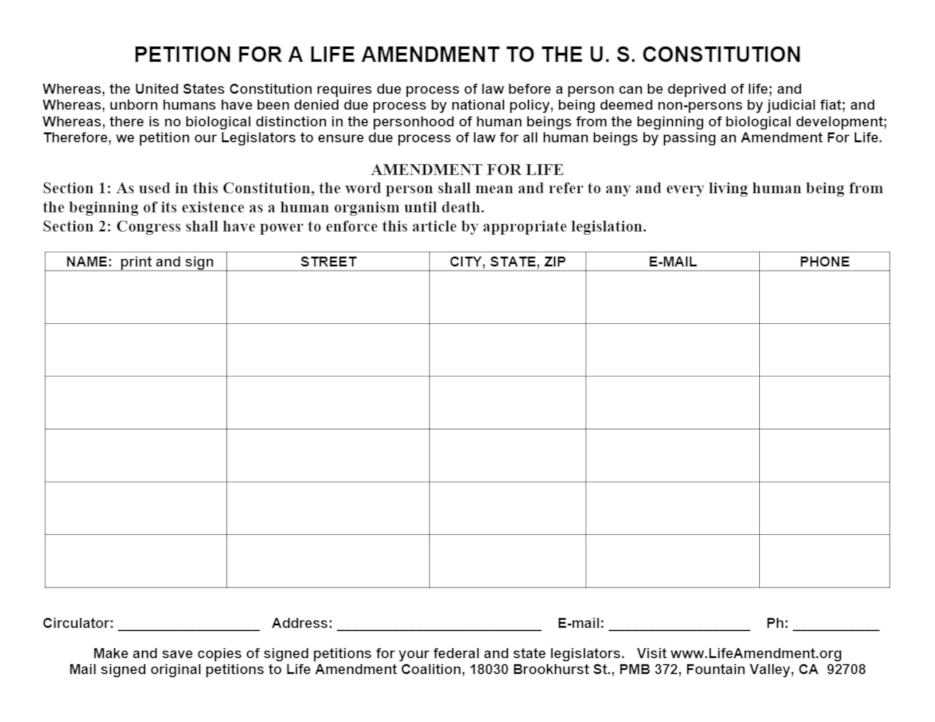 Each amendment must be passed by two-thirds of both Houses of Congress, and ratified by three-quarters of the States. Since the Constitution was enacted, there have been twenty-seven amendments. Now greatly needed is a Constitutional Amendment for Life, protecting human life from conception to death. The word person is the key to this amendment.
For more details read our booklets (all available to read free online):
Ending Abortion, Not Living With Abortion
Frequently asked questions
A5. From the start, the words of the Life Amendment were structured to succinctly demolish the fabrication of Roe v. Wade that an unborn child is not a "person". Following the recommendations of one of the nation's leading experts on this subject, the wording has been strengthened to ensure that the protections of our Constitution will extend to all preborn human beings.
(Read more…)
If you have a question we have not yet answered, you may submit it here.